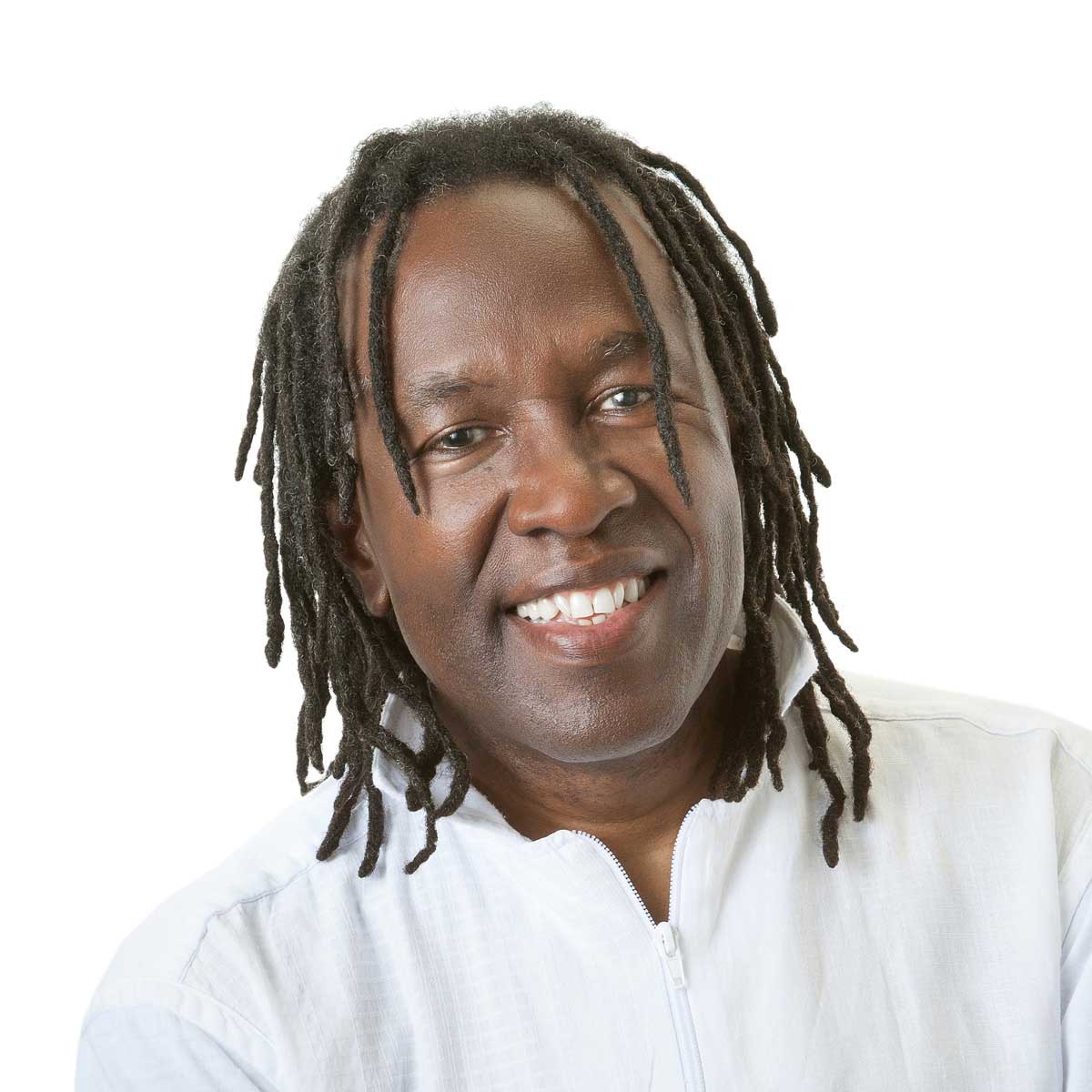 Biography
---
It's hard to remember when calypso has seen more controversy, excitement, and popularity than the day David Rudder stepped beyond his role as lead singer for the brass band Charlie's Roots and entered the domain, of the calypso tent as an individual artiste.
"Almost overnight he became a national hero on the order of Marley in Jamaica, Fela in Nigeria and Springsteen in New Jersey," wrote Daisann McClane, American journalist and World Beat correspondent for Rolling Stone Magazine.
Rudder's unprecedented rise to fame in 1986 has made him the subject of music critics around the world. From New York to London to Tokyo, where the Japanese have released a CD of Rudder's greatest hits complete with lyrics translated into Japanese, Rudder has been described as modern calypso's most innovative songwriter.
For Carnival 1993 Rudder released his album Ministry of Rhythm considered in Trinidad to be Rudder's best example of how to bridge the gap between modern pop and World Beat Music. Total Caribbean News wrote, "You're always guaranteed of a solid eight new songs and variety (with Rudder) David takes us on another fabulous musical journey. You can't come away without learning something. Rudder's ability write lyrics is undying. It's a beautiful Caribbean Infoparty."
Rudder was featured in Billboard magazine in 1993. "After years of sporadic record label interest and musical mutations, some industry observers reckon that calypso is inching closer toward an international breakthrough," wrote Maureen Sheridan. Billboard noted Rudder's three nominations for Sunshine awards at the time: Male vocalist of the year for Calypso Rising, best social commentary and calypso of the year for Hosay featured on Rudder's 1992 album Rough and Ready.
Debbie Jacob of the Trinidad Express wrote: "This music exudes confidence. If creativity is about making people see and feel, showing instead of telling, Rough and Ready is another of Rudder's creative departures." The Los Angeles Times featured two stories about Rudder. On July 28, Don Snowden wrote that David Rudder's local debut at the Music Machine with Charlie's Roots … "clearly established the singer as the most potent representative of the vibrant soca sound."
"The performance also impressively stretched the parameters of soca beyond the party-hearty lyrics and relentless groove-a-thon epitomised by Arrow's Hot Hot Hot. Rudder rejected some of the political commentary of classic calypso and slowed down and broke up the soca groove without losing its flow or rhythmic force. Rudder…could easily be the next Caribbean artist to break through in a big way."
Rudder's 1992 album Frenzy, which included Long Time Band about Carnival past and Knock Them Down a commentary about the Gulf War, earned rave reviews by the Sunday Punch and Trinidad Express. Following an Easter Concert in Port oDavid Rudderf Spain, Express Entertainment reporter Peter Blood wrote, "Rudder staged the mother of all shows." wrote peter Blood Express entertainment reporter. Rudder combined the best of his 1991 Rough and Ready and 1992 Frenzy on a CD. He released a collection of videos through Banyan, in Trinidad. Gordon Rohlehr, University professor and calypso expert heralded Rudder as "A Mighty Poet of a Shallow People in a Savage Time" in The Trinidad and Tobago Review, March 1992."In this calypso Hosay, Rudder is at his most metaphorical, his most oblique."
Over the years, Rudder has proved his versatility. In 1986 he sang about the Bahia Girl and was crowned calypso monarch of Trinidad and Tobago. In 1990 he sang with the Bahia Girl in Wild Orchid, a major Hollywood movie produced by Warner Brothers. Rudder performed with internationally acclaimed Brazilian singer Margareth Menezes.
Together Rudder and Menezes sang Dark Secrets, one of three songs Rudder contributed to the movie which stars Mickey Rourke and Jacqueline Bisset. The two other compositions Children of Fire and Just a Carnival are also included in the sound track of the movie. Dark Secrets was produced into a video distributed throughout Europe to advertise the movie which featured World Beat Music. Apart from Wild Orchid, Rudder released three other albums in 1990. Sketches, a mini-album for Carnival; 1990, a ten-song album that includes songs from Down at the Shebeen; A concert of Conscience which played to packed houses for the entire two weeks it ran at the Central Bank Auditorium in Port of Spain. The concert and album 1990 are devoted to the people of South Africa and feature a blend of calypso, blues and high life.
The third album released by Sire/Warner Brothers and London Records compiled songs from The Power and the Glory and 1990 along with additional tracks by independent producers including the renowned Stewart Levine who in the past had produced Hugh Masekela, Joe Cocker, Simply Red and Culture Club.
In late 1989 Rudder flew to Hollywood to work with Levine and top session musician Larry Williams on a cut from the album entitled Calypso Rising written by Gregory Ballantyne. American steel pannist Andy Narell and percussionist, Lenny Castro also sat in on the session.
Trinidad-born producer/songwriter Winston Jones contributed to the album. Jones had worked on my Warner Brothers productions in the past including Chaka Kahn and the Batman album. Rudder's album entitled 1990 album was featured in Stereo Review: "Rudder reigns as the king of calypso," wrote Phyl Garland.
In Trinidad, Rudder's phenomenal record still stands: Young King, the National Calypso Monarch title. Road March king, winning Panorama tune-¬Rudder captured every title in the 1986 calypso season, an unprecedented feat in calypso history. "Not since 30,000 Trinis raised their hands chanting "We Pope" at the National Stadium has anyone received such an ovation," wrote Angela Fox in the weekly Superstar of Rudder's award-winning performance in the Savannah. "…a performance which I believe has changed calypso, nothing less than that!" wrote columnist Wayne Brown while the Express devoted an editorial entitled Long Live the King.
"The calypso historian inside, knew this moment was like Sparrow's arrival in 1956, like Shorty's and Shadow's soca in 1974. David rudder is the first of a new generation of calypsonians and he's opening up a whole new way to write, sing, feel and see the thing. His music transcends culture, race, and class. You don't have to be from Trinidad to feel the power and the integrity in it. And, this is me, a Yankee talking. Things will never be the same again," wrote McClane in the Village Voice.
Rudder blended a variety of musical voices: pop, jazz, blues, calypso since he came on the scene first noticed for songs like Calabash, one of the many theme songs for the great masquerade designer Peter Minshall. David's distinctive style aroused the support of many music critics. "His music represents a turning inward, a form of reorientation. He has broadened the horizon or scope of the artform. Calypso at this time is crying out for a shot in the arm. He has taken it back to its roots, the Shango rhythm and the chants," wrote Trinidad music critic, Dr. Fedo Blake, in the Trinidad Guardian.
In the award-winning article for excellence in journalism entitled Looking for the Lyric, Trinidad Express Editor Keith Smith wrote, "Rudder has refused to turn his back on the great calypso tradition he has inherited, but the measure of his art is how he has remained unconfined by that tradition, yet secure in the foundation…"
"Rudder represents a new generation of Trinidadians. The spirit of rock, and the spirit of blues coming and going in the mainstream of his kaiso," wrote Wayne Brown, columnist for the Trinidad Express. "The beat and heart of Rudder's songs are in the Shango Baptist chanting. When he performs, his scat-singing, influenced by American jazz singers like Jon Hendricks and Al Jarreau, gets more and more percussive, bopping and bouncing around his band's head-bending Congo drum until it stands as a direct channel to the other side. He plants these roots in a pop context breaking from calypso's traditional verse chorus/band chorus format. Instead, he plays with bridges, vamps and uses imagistic non-lineal lyrics," wrote McClane in the Village Voice. While controversy raged on, David carried his musical message throughout North America and Europe.
"Not since the early days of the Mighty Sparrow has a calypsonian been able to sell out his every performance in a country that is not prone to personality cults," wrote Jan Murray in the English newspaper, The Observer. "His name will never be forgotten!" wrote the Barbados Nation as Rudder made a trip to that country to negotiate a record deal with internationally acclaimed Eddy Grant. "David Rudder has struck it big in Jamaica!" wrote the Trinidad Guardian of Rudder's astounding success in Bob Marley's territory.
"It is fascinating to analyze his success story in London. Perhaps it all started with a four page spread entitled King David in the Sunday Observe magazine, a privilege very few British pop stars enjoy," wrote The Guardian in England. "Rudder's characteristic fusion of words and music, sense and sound is a persuasive whole that takes the soul now, and works into "The magic of Rudder's best work is that it appeals to everybody at the sensuous level or the gut level first," wrote University of the West Indies lecturer Kenneth Ramchand.
Rudder signed a six year contract with London Records in England and Sire/Warner Brothers in the U.S. and produced albums like Haiti in 1988. The album dominated the first musical awards ceremony in Trinidad and Tobago. Rudder won five major awards including Best Male Recording Artiste, Calypso Most Played on Pan, PANAMA, Best Selling and Most Played Calypso Album of the Year, HAITI, the biggest selling records of the year.
The world continued to notice David Rudder. He was featured in a number of international publications including Germany's Gorgenpost and Stern Magazine. Jamaica's newspaper The Gleaner described him as the "Bob Marley of Soca," In the U.S. the Boston Globe, New York Times and Village Voice featured Trinidad and Tobago's calypso revivalist. "Rudder's HAITI album was plugged by music critic Michael Segell in the July 1988 issue of Cosmopolitan. Rudder was a cover story for Class magazine, featured artist in Ebony Magazine and featured artist in an article in the internationally acclaimed Newsweek Magazine. The article entitled "Pop Makes a Global Spin" written by Jim Miller called Rudder as the King of Soca.
Carib Beat magazine wrote how people came by the thousands from all over the U.S. for the New Orleans Jazz and Heritage Festival for which Rudder received rave reviews. He was a highlight in SportAid Live via international satellite. Rudder had performed with Barry White, Billy Ocean, KC and the Sunshine Band, Third World, Steel Pulse, Musical Youth, Miami Sound machine and Chalice. His HAMMER was the title track for an album made by Andy Narell, American jazz pannist. The song hit the American jazz charts.
Rudder was born in Belmont, Trinidad on May 6, 1953. One of 5 children born to his mother, he spent much of his early childhood with his grandmother, a spiritual Baptist. He grew up near a pan yard and a Shango yard in a neighborhood where boys dreamed of being entertainers.
Rudder began singing at the age of 11 with a group called The Solutions. In 1977, he joined a brass band called Charlie's Roots and the rest is history. His musical tastes in the past have leaned towards jazz, blues, folk rock and the African sounds of Youssou N'Dour, Salif Keita, Mory Kante, and Alpha Bondy. Rudder, who also paints, sees himself more as an artist than an entertainer. His work has become legendary in Trinidad and Tobago,
"Some people go back through the mists of time to find the legends, but more often than we care to acknowledge it or indeed recognise it, the legend is now," wrote Deborah John of the Trinidad Express.
Rudder has, as Wayne Brown wrote, ". . . made an entire culture redefine itself, in the evolution of any culture there are moments that offer the opportunity for self definition . . . the emergence of David Rudder . . . seems to me, one such moment."
APPOINTMENTS
Appointed as a Goodwill Ambassador for the United Nations Development Program (UNDP) in 1996.
ACHIEVEMENTS
1985 Third in Road March CALABASH
1986 Calypso Monarch and Young King BAHIA GIRLand THE HAMMER
Road March King and Runner Up BAHIA GIRL andTHE HAMMER
Winning song for Panorama THE HAMMER
1987 Runner Up Calypso Monarch CALYPSO MUSIC and DEDICATION
single for Jesse Jackson's Democratic campaign for U.S. President
JUMP FOR JESSE
Runner Up for Road March MADNESS
1988 NAFEITA AWARDS (First annual music awards in Trinidad and Tobago)
Six awards for Haiti Album including:
Male artist of the year
Album of the year
Best Party Song of the year
Best Social Commentary
Song most played for Panorama
Best Produced Album
MADNESS
PANAMA
PANAMA
Sunshine Award For Male Vocalist of the Year
1989 NAFEITA AWARDS
Best New Wave Soca SONG FOR A LONELY SOUL
Leading Role in SUGAR CANE ARROWS, a six-part television drama
series produced in Trinidad. First drama series from
Trinidad aired in the U.S.
1990 Caribbean Music Awards Album of the Year 1990
NAFEITA Award for Song of the Year 1990
Album of the Year for Caribbean Music Awards
1991 NAFEITA For Male Recording Artist of the Year ROUGH AND READY
Three Sunshine Awards for the ROUGH AND READY album including:
Male recording artist of the year
Album of the year
Best Social commentary
HOSAY
1993 Sunshine Award for Most Humourous Calypso POTATOE
1995 Rocky McCollin Award for best Carnival album HALLELUJAH
Best band of the year award for Charlie's Roots
The National Joint Action Committees Top 20 Awards
Rudder songs have made the top 20 from its inception in 1989.
MOVIE & TELEVISION SOUND TRACKS
1988 Sugar Cane Arrows The first Trinidadian drama aired in the U.S.
1989 Wild Orchid A Zalman King Film
Boca A Zalman King Film
Men of Gray An American/Trinidadian joint effort "action" film
2002 Lord Have Mercy A Canadian sitcom
STAGE PERFORMANCES
Over the past 25 years, Rudder has been a mainstay on the Carnival circuit throughout the Caribbean Islands and North America. In addition to this he has delivered critically acclaimed performances at several World Music festivals and performing arts centres around the world. In addition to touring through the United States, Europe and Japan, he has performed at the following:
MIDEM Cannes, France
WOMAD Miami, U.S.A. and United Kingdom
Glastonbury Folk Festival Glastonbury, U.K.
Köln Jazz Festival Köln, Germany
New Jersey Centre for the Performing Arts New Jersey 2000, 2003
UCLA Performing Arts Centre Los Angeles, CA 2002
Brooklyn Centre for the Performing Arts New York 2003
Harbourfront Centre Toronto, ON 2000, 2002, 2003
Toronto SARS Relief Concert Toronto, ON 2003
John Bassett Theatre Toronto, ON 2004
Hummingbird Centre for the
Performing Arts Toronto, ON 2004
Kennedy Centre for the Performing Arts Washington, D.C. 2006
ICC Cricket World Cup Opening Ceremonies Kingston, JA 2007
Madison Square Gardens New York, NY 2007
Lincoln Centre for the Performing Arts New York, NY 2007
Toronto Centre for the Performing Arts Toronto, ON 2007
Rudder has also performed at the 1997 St. Lucia Jazz Festival with Luther Francois, Andy Narell, Quartet Indigo, Hilton Ruiz and the Latin All Stars, Nicholas Payton, Santana, Shirley Horn, Dee Dee Bridgewater, Diane Reeves and Regina Belle. Over the years he has appeared with: Third World, Shalamar, Miami Sound Machine, Barry White, KC and The Sunshine Band, Maxi Priest, Van Morrison, Suzanne Vega, Ziggy Marley and the Melody Makers, Billy Ocean, Aswad, Steel Pulse, Chalice, Kassav, Salif Keita and closed the International World Beat Festival held in Trinidad and Tobago in 1999.
---