Afromatics Riddim – 2020 Soca Release
---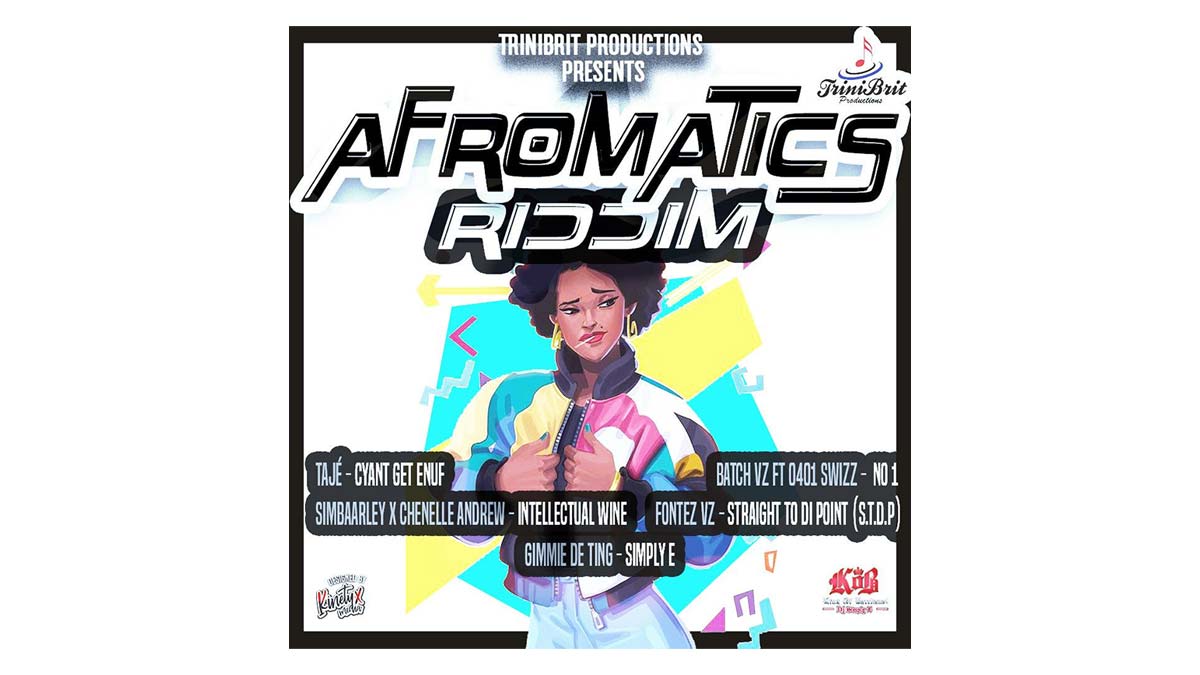 Afromatics Riddim featuring Tajé, Simbaarley, Chenelle Andrew, Batch, 0401 Swizz, Fontez and Simply E
The Afromatics Riddim, a sweet, sultry and seductive sounding Riddim, produced by TriniBrit Productions.
A combination of Soca, Reggaeton, Afrobeats and a pinch of R&B, brings a melodious vibe into your system from this Afromatics Riddim.
Listen to the princess of the Dutch West Indies, express her personal experience of finding true love and appreciation from humble beginnings to present.
No. 1

Batch ft Swizz

Straight to the Point

Fontez

Intellectual Wine

Simbaarley x Chenelle Andrew

Gimmie D Ting

Simply E

Cyan Get Enough

Tajé
Tajé – Cyan Get Enough (Afromatics Riddim)
Preformed by: Tajé
Written by: TajeProduced by Dj Simply E @djsimplye
Mixed and Mastered by TriniBrit Productions @Trinibritproductions
Social Media
Instagrams: https:/instagram.com/tajedormoy
Facebook: https://facebook.com/pages/category/Musician/taje721
Simbaarley x Chenelle Andrew – Intellectual Wine
Performed by: Simbaarley x Chenelle Andrew
Written by: Nathaniel Simbaarley Rivet-Leigertwood & Chenelle Andrew
Produced by Dj Simply E @djsimplye
Mixed and Mastered by TriniBrit Productions @Trinibritproductions
Social Media
https://instagram.com/simbaarley
https://twitter.com/Simbaarley
https://facebook.com/itsChenelleAndrew
https://instagram.com/itschenelle
Simply E – Gimme De Ting
Performed by: Simply E
Written by: Gregory Simply E Prescott
Produced by Dj Simply E @djsimplye
Mixed and Mastered by TriniBrit Productions 
Social Media
https://facebook.com/trinibritproductions/
https://facebook.com/gregory.prescott.18
Batch ft 0401 Swizz – No.1
Performed by: Batch & 0401 Swizz
Written by: Elvin Batch Nicholas & 0401 Swizz
Produced by Dj Simply E @djsimplye
Mixed and Mastered by TriniBrit Productions
Social Media
Instagram: https://instagram.com/batch_vz
Facebook: https://facebook.com/batch.vz
Snapchat: https://snapchat.com/add/batch_vz

Fontez – Straight To Di Point
Performed by: Fontez
Written by: Akil fontez Mc Alister
Produced by Dj Simply E @djsimplye
Mixed and Mastered by TriniBrit Productions.
Social Media
Facebook: https://facebook.com/akil.mcalister2
Instagram: https://instagram.com/fontez_vz
Snapchat: https://snapchat.com/add/fontez_villianz
---