Coming Soon
The event
Saint Lucia Roots & Soul – August 23rd to August 25th, 2019
Saint Lucia Roots & Soul runs for three days, the first day will be held  on the Ramp in Rodney Bay. Pigeon Island National Landmark will host the shows on August 24th and 25th.
A festival dedicated to musicians who are setting new trends in reggae, conscious hip-hop, Afro-punk and R&B.  Also performances, master classes and encounters between artists and other actors in the music business. Like Saint Lucia Jazz, there will be free and paying concerts, in various parts of the island.
Friday August 23rd – Roots and Soul
The Ramp – Rodney Bay
Performance Poetry and Rapso
US$30/EC$75  | 8:30 PM Doors Open 7:30 PM
3Canal
Curmiah Lissette
Asher "Smallz" Samll
Ngozi Grandison
Saturday August 24th – Roots and Soul
Pigeon Island National Landmark
US$60/EC$150  | 6:00 PM Gates Open 4:00 PM
Tarrus Riley featuring Estelle
Timaya
Leee John & Imagination
Skip Monday
August 25th – Roots and Soul
Pigeon Island National Landmark
US$60/EC$150  | 4:00 PM Doors Open 2:00 PM
UB40 featuring Ali Campbell and Astro
Ginuwine & Mya
Sherwinn 'Dupes' Brice
Lamani
Saint Lucia Roots & Soul will bring together musicians, record labels, online music stores and platforms. Also specialized journalists and other actors in order to enhance market access for Saint Lucian.
For more information on visit stlucia.org/rootsandsoul
#saintluciaroots&soul #rootsandsoul
---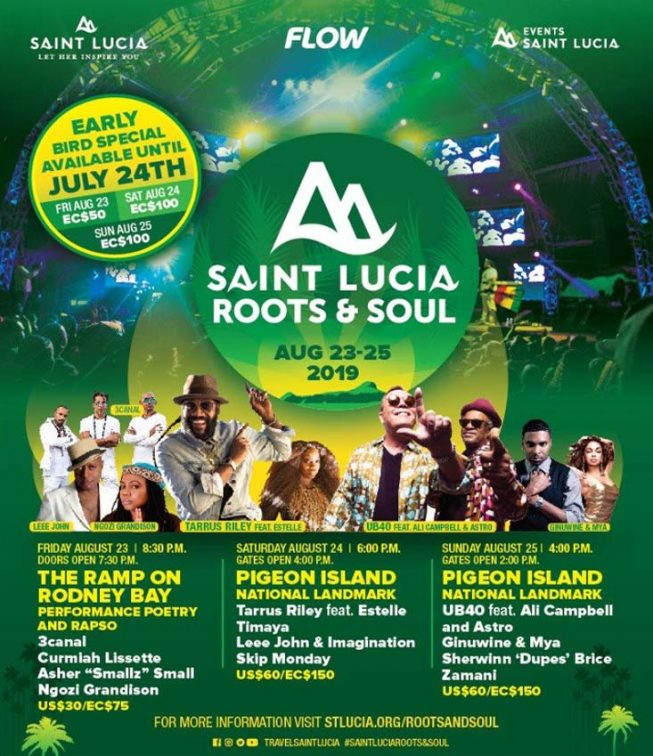 ---
Buy tickets on keyboard_arrow_down
---